Yes, the door is being slammed shut…  So hurry in!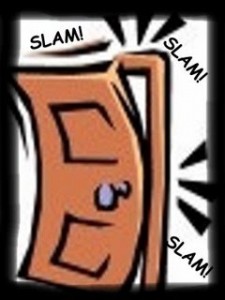 Jim Ingersoll and David Phelps here with a quick note about the Ultimate Freedom Without Banks boot camp….
Tomorrow is the last day you can use the discounted room rate at our event headquarters, Hilton Garden Inn, and book your rooms for just $89 per night.  If you haven't gotten your reservation set yet, I strongly urge you to do it right now.
Click here to register for boot camp & "freedom room block" at the Hilton Garden Inn – Be sure to use promo code: free50 to save an extra $50 on registration (and remember to bring your partner for FREE)

Freedom Without Banks Boot Camp Registration
Here's what others have said about past events:

I have the concepts and the instructions. There is only one variable and he is in the mirror… thanks" Gavin Huffman

"The info was extremely timely and relevant for todays environment. This is not the same market as 2-3 years ago. Jim  showed how to be productive, efficient and frugal."  Darren J

"Well worth the money spent. I learned a lot more than I anticipated this weekend" Julie K

"Very informative & worth giving up my weekend. It was enough to motivate me to be willing to take my first steps."  David D

"Priceless" David Lenz

"Concise, focused, knowledgeable, open to all questions and very "Real World"  Jay Rogers

Hey Jim, Just wanted to drop you a line and thank you. I have been searching for awhile for someone who can help me go to the next level of my rental investing. Funding has been a big hurdle, and although I have done some private financing, I am "greatly" interested in learning all that I can from you. I told my wife last week that it is so hard to find people who think the same way that I do when it comes to real estate investing. You are refreshing and encouraging. So you can place who I am. I was probably the youngest guy there, Thanks again. > > Mathew Starr
"Really liked your teachings. I decided this year would be my "private money" year. I've already met with 3 potential investors…and it's ALL about the follow up! Thanks" Anca Markie

Still holding back? I can understand your wanting to make the right investments with your time, energy and resources…
 I know it takes time to make travel arrangements and spend a few days investing in yourself…
So that's why we give you an IRON CLAD GUARANTEE.   If you aren't convinced that your investment was a wise and profitable one, then contact myself or David Phelps for a FULL refund!  That makes this investment in yourself completely RISK FREE!
Register NOW and invest in your future:
Freedom Without Banks Boot Camp Registration
Get it now and be ready to succeed massively!

To your Success!