There has not been 1 home that I have walked into that didn't need STAGING to some degree!
Some homes need more staging than others but when it comes to an EFFECTIVE sale of a home you HAVE to stage your home every time! Have an agent that says it's not needed? Ask them why because they are 100% wrong! (they will probably say "I've been doing this for "x" amount of years and we never needed a stager to get a property sold" Well, times are changing and the ones that don't ADAPT will be left behind with their antiquated methods that DON'T WORK! Do you really want to take a chance of not getting the most amount of $ for your home?) This day and age as well as current market you cannot effectively sell a home without being staged.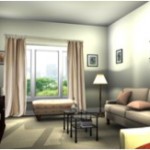 Staging works in any market. Here is how, if you are in a HOT market (few home selections to choose from and homes are sold before you can see them) then staging will help increase the dollar value of the home.
We have helped home owners in hot markets obtain over $40,000 additional from multiple offers on their homes because of effective staging. In a COLD market (lots of home selections and they are sitting up for sale little bit longer) then staging will help sell the property in 50% the time of a non-staged home. Currently Capital Home Staging & Designs Days on market for the 2011 season was 15 days! How incredible is that?
Now you're probably wondering how staging works and that anyone can do it! Well let's start with the "How staging works" if you have a TRUE stager then they will know that staging is marketing. Effective packaging of an item (your Home) and turning it into a product (a House) Buyers do not care how the current people live because everyone is different so yes there is an element of packing up and getting prepared.  But I would always suggest to NEVER pack or work on your home until you consult with a stager because there have been many times where home owners have packed up items I could of used or even packed too much making the home feel empty and baron. I have also encountered home owners that have painted or done "updates" to their home prior to sale but did it to what THEY like and not what the "TARGETED MARKET" likes.
This is a HUGE no no that not only will affect the sale of your home but it's an unnecessary COST to you as an owner. So if you have a good stager they will evaluate the following, Traffic flow, lighting, cleanliness, effective selling colours, what to keep, what to remove, what you need to fill in space, curb appeal, and the most important step of all…….WHO your TARGET MARKET IS! Selling a home to "any buyer" is an antiquated staging technique (yes staging techniques change with time too just like the way realtors sell homes so ensure your stager is continually learning or they'll be left behind as well!)
Now, can anyone stage? NO! There are lots of people who can make a home pretty but that is NOT staging! Putting a fluffy pillow here, adding an art piece there sure but a true stager will "stage" to the specific buyer adding in elements that speak specifically to that buyer connecting with the emotional ties. If they are adding just generic pretty décor and no true internal marketing it's not doing what it should! So, how do you find an effective stager?
Stagers are not regulated but I would always suggest you find one that has a broad portfolio, great statistics, Certification, as them how often they attend a learning session so they stay up to date as well as their fees. Anyone that provides a "Free" service or a service under $100/hr is running a hobby and not a business so their skill may not be to the level of preparedness that you need.
Kristy Morrison
CEO Capital Home Staging & Design
COO Association of Property Scene Designers –Training Company
www.APSDmembers.com