Can you believe we are at the end of April already?  This year is 1/3 OVER so I am asking how is your progress on achieving your goals for 2012?
Are you on-track?  Need a little adjustment?  Need some red-bull to prime your pump into motion?  The good news is that you have 2/3 of the year still ahead of you & you can make the necessary adjustments to meet your goals!
Remember  what Warren Buffett recently said during his interview on CNBC
"If I had a way of buying a couple hundred thousand single-family homes… I would load up on them because single family homes are very cheap right now"
This book focuses on several income streams, both passive and active, including:
Wholesaling, Fix and Flips, Buying rental properties, Private Lending income streams (and more of course)!    My new book, "Cash Flow Now: How to Create Multiple Streams of Real Estate Income" should be available within 3 weeks.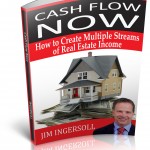 Have you heard our FREEDOM Mantra?  I have scheduled a Freedom Boot Camp in Richmond, VA with my good friend Doc. Freedom (aka Dr. David Phelps).  He rings the Freedom Mantra louder than anyone I know.  We will show you how to gain your freedom from debt, freedom from your boss, freedom from a declining 401k (you get the picture)!
Plan to join us for the "Ultimate Freedom Without Banks Boot Camp."  Everyone would like more passive cash flow that works for you, rather than you working for the cash flow and that is what the weekend is all about.  The main focus of the boot camp is about finding and using private lenders to buy as many houses as you want (without banks, without cash, without credit), real estate joint ventures, asset protection strategies to keep you off of the radar and creative seller financing deal structuring!  We have a lot of bonus's set up for you when you make an early commitment to join us.  Are you ready to invest in yourself and into your own financial freedom?  Register now at:
http://investingnownetwork.com/investing/
Once you commit to registration, you can immediately jump into our monthly coaching program and enjoy it from now until the boot camp for FREE as my special bonus!  The normal price of our monthly coaching, with David Phelps and I, is $97 per month…  so enjoy it for FREE with your registration!  There is a 100% money back guarantee with all of our boot camps, so if you sign up early and your summer plans change, we can refund you with no problem!
Our Mastermind Coaching is really starting to take off and catch the interest of a lot of people.  Follow the link below to see a short video that was taken from last weeks mastermind.  They are set up to focus on income streams presented in my new book and all masterminds use the premise to eliminate banks, buy houses and generate income:
1.  Wholesaling
2.  Fix and flipping
3.  Buying rental properties
4.  Using your capital to create fantastic returns
Want more info on masterminds?  Follow this link and then complete the short info box on the bottom and I will send you back a short application with more information.
http://www.investingnownetwork.com/coaching/
Finally, I am speaking twice in the next couple weeks, check it out and join me for a great time!
April 25th in Richmond, VA at RREIA

http://www.facebook.com/events/272361456188539/
6600 W. Broad St Suite # 150 (Keller Williams)
Richmond, VA
Charlottesville, VA
Tuesday, May 8, 2012
6:00 PM
Courtyard Marriot
638 Hillsdale Drive
Charlottesville, VA 22901
http://www.meetup.com/CvilleInvestors/events/60161612/?a=co1_grp&rv=co1
Well, that is it for this monday morning!  Warren Buffett is right!  Real estate is on-sale, readily available and the time to capitalize is right now!
I trust each of you are on-track or will make the needed adjustments so you can enjoy the market we are in!
To your success
Jim