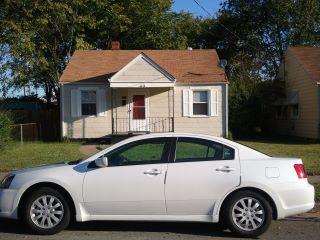 Sometimes it is hard to know how to spend your money. Should you buy a liability (car, boat, r.v.) or should you take some of your money and buy some investment real estate? It can be so much fun to go out and get a new car or a new "toy" to give you the fun that you so deserve.  But, what if you could invest your time and resources into assets that could provide you with income streams to help you meet your financial goals?  What if you get rental property at todays reduced prices and you didn't need to use a bank to get that financing?
This photo above was sent to me from a reader, Bruce Brown, and it tells the perfect story about the difference between assets, liabilities and cash flow.  I appreciate Bruce sharing this illustration and this is how he further describes it:
"The price of the house and the rehab was $300 less than the price of the 2012 Galant. The cashflow that the rental produces will make the car payment. Four years later the car is paid off and the cashflow from the house continues… Cha ching!!"… Bruce Brown
Bruce has figured out how to invest in today's real estate market.  Purchase income producing assets without using your own money and without needing a bank and begin to enjoy the many benefits of positive cash flow.   Cars and other liabilities will be depreciating and creating negative cash flow for you, however, if you can focus your energy on positive cash flow and building assets you can strike it rich in today's real estate market.
How many houses would you need to purchase to set you financially free?  How much positive rental income would be required so you could quit your job?  We are experiencing the greatest transfer of real estate wealth of our generation.  Now is the perfect time to establish a real plan to allow you to experience the financial freedom you deserve.  Think about what your life would look like if you were no longer a slave to your daily living expenses or the day you no longer needed a job. Visualize it in your mind and focus on finding a real estate plan to set you FREE.  Put that plan together and begin to make it happen NOW!
Please leave me your thoughts and comments and consider sharing this post to your social media connections!
Thanks!