I am guest blogging for a number of different websites and one of them is StockMarketToday.com.  You know I really do not like the stock market as an investment vehicle so I am creatively finding ways to tie my articles back to real estate.  Today I wrote one titled "Would You Joint Venture With Warren Buffett."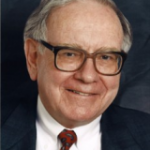 This site and the IRA.com site I write for are managed by a guy quickly becoming a friend of mine, David Huber.  Anyways, this article today can be used by every investor.  Know how?
The main point of my article is that real estate deals are perfect for joint ventures.  One party brings all the money for funding and does NO work.  The other party does ALL the work, but needs no money.  Together they joint venture and create tremendous returns.  The two most common questions I receive every single week are:
1.  Where can I find a private lender?
2.  Where can I find a catalyst to put my money to work and create great returns?
See the irony of the two most common questions I receive?  Both people need one another and can not find each other?  These two parties need a financial blind date don't they?  ha ha.  I hope you see my point.
Did you figure out what to do with my new article?  Go to this link and "Share" the heck out of it.  What good could sharing an article do for me?  Good question, glad you asked.  Sharing this article to all of your social media connections and email connections CAN open up doors for you to discuss real estate joint ventures.  Want to find private lenders or find your catalyst?  Share this link and offer to help your connections understand it.  Need help understanding it, just email me and I will help you out.
Here is the link, read it and SHARE it.
http://www.stockmarkettoday.com/joint-venture-warren-buffett/
One last item to leave you on friday afternoon!  Next friday, a week from today, I am kicking off Flipping Houses Mastermind Coaching group.  People are already signed up and set to go, but I can add some more.  Want to know who is coming?  Some are Realtors, Some are Contractors, Some are CPA's and Some are Young People…  You get my point that it is a pretty diverse mastermind group.  Want to join in?  Just follow this link, go to the bottom of the page and send me the contact form.  I will then send you the information and you can join our FLIPPING HOUSES MASTERMIND TEAM.  Follow this link and send me the contact form today.
http://www.investingnownetwork.com/coach
My book is at the Publishers.  They are working on interior formatting and promotional text which I should have a week from now.  I will need everyone's help when it is ready to publish and I will say it in Advanced —-  THANK YOU!
I bought a house this week and Sold a house this week, ordered 100 more bandit signs and having a great time.  Hope you are 2!
Happy House Hunting this weekend!
Jim