In speaking with investors all over the country the general trend is that it is becoming harder to find great deals with the typical REO foreclosures and HUD homes.
Is that true in your market?  Leave me a comment and let me know.  There are a lot of reasons why we can't access the foreclosure shadow inventory including:
1.  Fannie flips – Fannie mae light fix ups and sell for more money
2.  Non-investor bid:  Longer and more frequent non-investor bid periods on new listings
3.  Bulk sales:  2500 homes at a time being offered to hedge funds who buy them all and hold them as rentals
4.  Multiple offers:  Landlord buyers and Flippers are having trouble finding good distressed inventory and all the great ones are receiving multiple offers.
I believe all these changes are leading to a rise in demand of the wholesaler OR the investor who is willing to market to find his/her own houses direct from sellers.
Wholesaling is how I broke away from my corporate job and it is almost like printing money as you get to sell houses you don't yet own and buy them with the money you don't have!  Got that?  It can be a hard concept to grasp for most people.  Basically the wholesaler finds a highly motivated seller, gets an option to buy a house and then sells the option to an investor who wants the house.  The wholesaler makes money in the middle of the transaction for facilitating the deal between the motivated seller and the investor buying the house.  When the property goes to closing the wholesaler needs NO money and walks away with a check!  Not a bad deal at all!
If you want to keep buying distressed property and not be held up from suppressed foreclosure inventory, you will want to market for your own houses or consider working with a great wholesaler.  If you need to create an immediate income stream and don't have money to buy houses, you can learn to get into the middle of a lot deals as a wholesaler.
Life in the middle is the wholesalers mantra!  Collect as much money in the middle of as many deals as you want.  Each closing is a payday and life is good in today's market.  Below is a picture of one of the many investor bus tours we conducted here in Richmond, VA.  We would load up a 55 passenger bus and wholesale about 7-8 houses in a day.  It was a lot of fun, if you were on one of my bus tours I would love to say hello so email me direct at  jim@investingnownetwork.com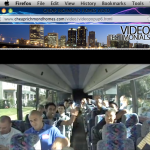 Do you want to learn to wholesale and get into the middle of a lot of deals?  Maybe you would be perfect for my coaching program to learn exactly how to do it.  Click this link, fill out the contact form at the bottom of the page and I will send you the information and application.
http://www.investingnownetwork.com/coach
Life in the middle is great, come on in!
Please leave me a comment and share this in facebook, twitter, linked in, etc.
Happy House Hunting
Jim Ingersoll