Newer houses can be a house-flippers dream. They don't require extensive repairs, only updates. In this house, we are updating everything; the floors, the kitchen, the appliances, the bathrooms, and we're adding a deck.  We add decks and french doors to a lot of houses we flip so that the new buyer has nice outdoor space and the french doors tie the outside and inside together along with providing nice natural light.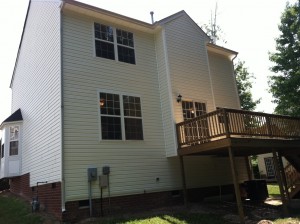 One of the recent houses we flipped had a cramped dining area, so we added double french doors and a deck of the back. The light alone made the house seem twice the size, and now the house had useable living space, even though it was outside.  See photo below: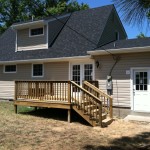 A house we recently finished was built in 2001 by Ryan Homes and the original owners had the option of a deck behind the house, unfortunately it seems as though they weren't able to finance that addition, so the house was left with double french doors off the kitchen that opened up to a ten foot drop. Not very kid-friendly!  I couldn't believe no one ever added the deck to this house!
So we added a deck off of those doors and effectively supplied the next owners with outdoor living space. Outdoor living space, if you didn't know, is a huge selling point for a house, and this deck will have enough room for chairs, a table, and a grill.  Deck designs can become elaborate and include a lot of features and upgrades.  We find that for most houses, we can provide a basic 12 x 12 style deck and make potential buyers very happy without a lot of extra deck style upgrades.
When renovating your houses and getting them ready to flip, do not neglect your outdoor space.  It is very important to today's buyers.  Be sure the driveway looks great, porches really pop and the back includes a nice patio or deck.  Today's buyers want to be able to have space for grilling out, playing ball with the family and a nice area for entertaining.