Here is an insider tip on my new book.  I have shout outs to the following people:
Tiger Woods, Dave Ramsey, Suze Orman, Tom Coughlin and Shaka Smart…
Shaka Smart?  Really Jim?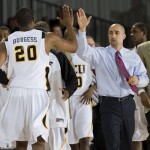 Yes, it is true that when the VCU Rams made their Cinderella Run in last years March Madness
That I became a believer in Ram Nation!  This city of Richmond has rallied around VCU and it is fun to watch them roll in March!
You will have to ready my book in 6 weeks to see how I related each of these people into a real estate book, but let me tell you about
Coach Shaka Smart.  He is young, energetic a great leader and most of all a FANTASTIC Coach! VCU lost their 4 best starters
from last years Final Four appearance so everyone wrote them off this year.  What did Shaka Smart do?  He instantly built a brand new team
and they are exceeding everyone's expectations by winning the CAA championship last night! Are you ready to find your perfect Coach?
Check out my new coaching page at: http://www.investingnownetwork.com/coach
Back to Real Estate…  My first investment property was a duplex in Jamestown, NY and it was a disaster!  Why?
First, I had ZERO training in anything related to real estate, being a landlord, etc.  I was young, but that was NO excuse.  If I had
taken the time to invest in myself to learn to buy the right house, do the right fixups and attract the right tenants I would have avoided
my own education path in the school of hard knocks LOL!
I want YOU to avoid the school of hard knocks.  That is why I have started writing books, blogs, giving seminars and Coaching!  Coaching?
For years I was asked by investors to help Mentor and Coach them, but now it is a reality.  I have 3 levels available:
1.  Monthly group coaching call with my good friend David Phelps.  This is just $47 per month.
2.  Passive or Active Income Streams Coaching:  These are broken into flipping houses, wholesaling, how to be a private lender, etc.
3.  Platinum level mastermind:  This is for the investor who is already active and wants to go to the next level!
Here is the link to my coaching page: http://www.investingnownetwork.com/coach
At the bottom of this page is a very short contact form, just fill it out and I will send you all the information and the brief coaching application.
I am scheduling the Coaching for Flipping Houses within the next two weeks and the other topics right behind it…  Do Not Miss the Train!
Please help me out and share this in your Facebook, Twitter, Linked In contacts!
GO VCU
To Your Success!
Jim