Have you noticed the new trend in the real estate market?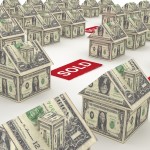 Back before the Bubble burst wide open from all the toxic loans we experienced a regular dose of multiple offers.  The sharp Realtors began to use escalation clauses on their offers that would escalate their clients price if the seller received multiple offers on a house.  Remember those days?  Guess what?
To some degree those days are returning.  This is especially true when buying foreclosures in 2012.  This past week I have been helping my daughter Melisa get her next two houses under contract.  One of the ones we like a lot had 17 offers on the house.  We got the word from the asset manager that they needed our Highest and Best.  At least 3 other houses I put offers on this past week all had multiples as well, all between 3 and 7 offers.  Fortunately, for my daughter Melisa, she came back as the highest out of the 17 offers on her house.  It is a house that was damaged after the hurricane last summer.  I suspect the home owners took the insurance check and moved onto greener pastures, leaving behind the storm damage for the bank to deal with.  I have seen this happen a number of times since our last hurricane.
What caused this surge in demand?  First, foreclosures activity appears to have slowed down a little bit.  Second, investor activity has significantly picked up.  The combination has reduced some of the distressed inventory levels.  We are seeing a surge of investors coming back into the market right now.  These are people that have been on the sidelines since the bubble burst. 
This phenomena is not only on distressed inventory though.  We are seeing increased showings and faster sales on flips including several this year that had multiple offers.  In my last posting I showed the picture of the ice cold pool with a diver jumping in.  Ask yourself, what FEAR is holding you back from jumping into the real estate market in 2012?   For some it is buying without cash or credit, others is lack of experience, some it is finding the right people for their team.
What is your FEAR that is holding you back?  Leave me a comment and let me know.  I would love to hear from you.  Consider sharing this post through your social media contacts and make it happen in 2012!
Happy House Hunting
Jim