NSM – Never Stop Marketing!
As real estate investors we market to buy houses from motivated sellers, we market to rent houses to tenants, we market to sell houses to first time home buyers and one key to success is to Never Stop Marketing!  I like to use marketing that does not cost much money, aka guerrilla marketing.  I do a lot of internet marketing and have quite a few different websites for the different aspects of my real estate investing including sites for finding motivated sellers, renting houses, selling houses to first time buyers, etc.
I also use several YouTube Channels that can relate back to the main websites and my favorite way to connect back to investors is Investing Now Network where we all connect.  I also use social media extensively, as it is FREE and a form of guerrilla marketing as well.  You can find me on Twitter at: www.Twitter.com/investforever, on Facebook www.Facebook.com/investingnow, Linked in www.Linkedin.com/jimingersoll and Pinterest at www.Pinterest.com/jimingersoll
Wait Jim, did you say Pinterest?  Really?  Isn't that a site for girls to pin their future wedding plans and favorite fashion statements?  I would agree that Pinterest got it's start in those markets, but it has quickly taken off and expanded into business.  My daughter Melisa told me about Pinterest several months back and she recommended I start to use it and she was right on!  Pinterest is on a ridiculously fast growth pattern right now with millions of pins and users being added all the time.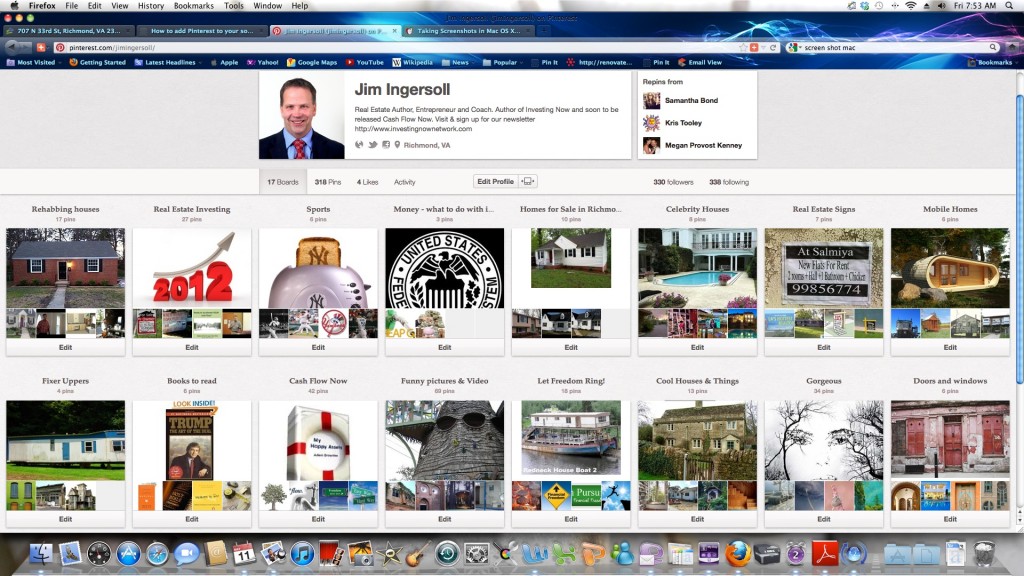 People involved with the real estate world have suddenly taken a liking to Pinterest.  The site, combined with the sales oriented nature of the real estate industry, lends itself to allowing an agent or investor to show off the housing they have on display for sale or rent. Those who are in the market for a new home can easily visit Pinterest and look at the house, profiles and even their own interests.
The real key to Pinterest is driving traffic to your site with the links you can create on each individual pin.  Real estate investors and agents can use Pinterest to drive traffic to their sites, where they keep important information concerning their residential listings and contact information.  If you are already in the Pinterest universe, please stop by and follow my boards, like some of my pins and I will do the same in return.

 How to start using Pinterest
To begin, you're going to want to set up a Pinterest account. As of May 2012, Pinterest requires new users to request an invite via Pinterest or through referrals. After receiving an invite, Pinterest makes it simple to set up your profile. Those in real estate should fill out as much information necessary to inform prospective clients of your trade. Don't forget to provide a link to your web site and your social media contacts.  If you are ready to set up in Pinterest and need an invitation, just leave your name and email in the comments below this blog post and I will personally invite you!
Pinterest's streamlined photo boards can help showcase an exterior and interior of a home. Using bright and clear photos of a listed home attracts Pinterest users to your listing's board. You can share photos via pages called boards, where you can pin, or add, photos. At the top of Pinterest's toolbar, click Add to create a new board. Choose Add A Board to immediately pick a category–you're going to want to choose a category related to real estate–and name your board and click create.
Pinning photos of particular interesting activities, landmarks and even the neighborhood in your market potentially helps attract prospective buyers. Use good keywords, such as titling your generic photo tags with the name of your city, to help others find your photos along with highly searchable hash tags (like Twitter) can allow other users to find you.  For example, you may want to use this hash tag on a house for sale in my area: #HomeForSaleRichmond.

Pin your own photos relating to real estate. Take a look at my Pinterest at www.pinterest.com   and you will see that I have boards for inspiration, motivation, humor/funny but all things relate back to real estate for me.  It's also a good idea to pin other users photos to make your boards more well rounded. You'll even draw traffic to your boards this way.
Don't forget to network! When you pin or repin you have the option of sharing that pin on Facebook or twitter.  If you want to spread your message, take advantage of this pinterest option.  As a social networking site, using Pinterest is a great way to get prospective buyers feel more comfortable with real estate. Don't shy away from creating your own personalized pinboards as well on a variety of topics.
The ease of using Pinterest  to share interesting photographs has made it the fastest growing social networking and media related site within the past year. 
Using Pinterest in real estate promotion is a trend that will continue for a long time.  Pictures are very powerfull and connecting with potential buyers, sellers and tenants on-line in a social media setting is a FREE and EASY way to shout your message to thousands of people.  I am getting hits to my main websites from pinterest every day.  I have been shocked to see the Pinterest hits to my sites exceed the other social networks such as Twitter and Facebook.

Want a Pinterst invitation?  Just leave your email in the comments.  Also let me know how Pinterest is working out for your efforts.
Remember – NSM – Never Stop Marketing!
Jim Ingersoll
www.investingnownetwork.com