This time of the year is all about giving to
others and the same can be true in your
real estate business.
Every house you buy, sell and rent is a gift
to the future tenant, return on investment
for a private lender, a fixed up house for
the community, and memories for future home
owners.
David and I both love to give back.
One of my favorite trips in the past few
years was to an orphanage in Brazil.
I had the opportunity of helping at
Seeds of Hope, Brazil, and it really was a
ife-changing experience.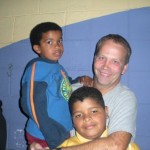 As I gave I also began to receive back many
blessings from the orphans in Brazil.
This past week we have been busy in the
rehabbing mode on four different houses
in the Richmond area.
While spending time at these houses keeping
everything moving along, I had neighbors
stop by to see what we were doing.
In every case, the neighbors were thrilled
to see the house being renovated.
They know that it improves their
neighborhood.
I had one neighbor remark that they wish
they could have bought the house as they
saw the potential.
It was also interesting to learn that they
knew exactly how much I had paid for it
and remarked, "you stole that house at
that price."
You see my point, we pour ourselves out to
others and into our communities and all
these efforts come back to us With rewards
in many different ways.
This is the primary reason that David and
I are now offering coaching to others.
We can give back and help others grow and
work towards their dreams.
I have recently been working with a couple
of young people on buying their first
investment properties.
Both are 21 years old, have no real cash
available and no credit (not bad credit,just
no credit).
So how did We help them buy houses in
today's tight credit environment?
Glad you asked, stay tuned for more!
To your success,
Jim and David
P.S. If you would like to know more about
our on-going coaching program, click follow this link:
Here is the link to our first level coaching:
Check it out today, just click here