By Jim Ingersoll
I have a FREE gift for you! 
My good friend, J.P. Vaughan
at CREonline.com has written a Special Report & I
want to give you a copy as a small "Thank You" for
being  a loyal subscriber!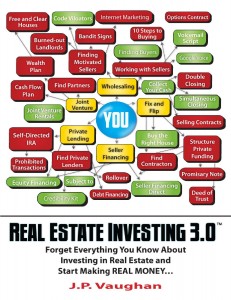 So grab your FREE copy now. I know you'll enjoy it! Here's
the title:
Real Estate Investing 3.0
       Forget Everything You Know About Investing
       in Real Estate and Start Making REAL MONEY…
==> Click here to get your free special report
Here's part of what you'll learn:
* Why Most Real Estate Investors Struggle and Fail
* Putting the Real Estate "Market" into Perspective
* Why You Can Still Build a Wildly Successful Real
Estate Business
* Obstacles to Achieving Your Real Estate Success
* The Truth: You Do NOT Need Money or Good Credit
* How to Go From Frustration and Confusion to
Freedom
* And More…
Again, get your copy now, while it's still FREE. And please
let me know what you think. I'd love to hear from you!
==>
Let me know what you think!