By Jim Ingersoll
 A pictures is worth a million words, right?
Grab Your FREE investing kit Now- How to get set up as a real estate investor with the right foundation.  Here is a great toolbox that will help you get started.
Here is a photo blog of house we recently bought that was a short sale, we added new space upstairs with 2 bedrooms and a bath and renovated this cape cod.  This is a house we are flipping retail.  Let me know if you like this format for learning how to flip houses, renovated homes, rehabbing, etc.  This home we purchased with private money at an interest rate that will provide a great return for the lender and still work well for us without needing a bank mortgage.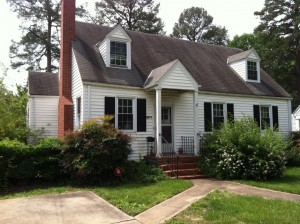 Cape cod – we bought as a short sale, pic as-is when we bought it
Here is the exterior renovation on the roof that consisted of tearing off original and installing new 30 year dimensional shingle roof.  Sometimes you can save some money to go over top of existing or use a 3 tab shingle, but our standard now is to Always tear off the old roof, replace damaged decking boards and replace with 30 year dimensional roofs.
Get your demo done first thing.  This is the kitchen and bath following demo.
We took a wide open 2nd floor and made a master bedroom, jack and jill bath and another bedroom.  That added a ton of good square footage to the house.
Once framing is completed, move your trades in to do all the rough in work.  This includes HVAC, Plumbing and Electrical.  During this early phase there should be a lot of workers at your house like in the picture above with trucks parked everywhere.
Mud work on the walls and new sheet rock, paint and start to finish out the house with the new kitchen and baths.
Living room, kitchen, bedrooms, bath
Final back and front of the house
What do you think?  Have questions, comments?  Just leave them below for me and consider sharing this information on facebook, twitter, linked in, etc.
Thanks
Jim Ingersoll