As we near the bottom of our real estate market many investors are realizing that it is once again becoming a great market to begin buying houses again.  Investor's who can buy now can hold onto the investment for great cash flow or flip the house for an instant income stream today.  It is the process of taking wholesale property and then transforming it into a great stream of income by flipping houses. Once you have found the perfect house you will need to begin planning your construction.  Before even starting construction, it would be vital that you choose the best contractor for your investment business.
When I am looking for contractors I am looking for a long-term team member who can help me fulfill three specific needs I have :
1.  Price
2.  Quality
3.  Speed
All three are very important to me.  Licensure and insurance are a given.  If they are not properly set-up I would recommend you keep looking for a good contractor.  It is hard to find contractors that are fast, have good quality and excellent pricing.  The good news is that in today's economy it is possible to find them.
Decisions for your investment property improvement projects should be with a judicious manner. Although it can be a bit tempting to hire a company with the lowest bid, it would be still be wise to someone who does the job right and save money in the long run. Here are easy tips on how you can improve your chances of selecting a credible contractor the first time.
Begin your list with at least three to five general contractors. This list will serve as the starting point and this is also where you begin pre-screening them and end up with at least two or three good contractors that you want to bid on your projects. Unfortunately, this is also the point where many household owners end up with the wrong choices and costing them a good amount of money in the long run. The referrals from friends, family and relatives can be helpful but you would still want to look into what each company has to offer to ensure you get the best deals.  You may want to check service magic or angies list.  With Service Magic the contractors are typically a bit pre-qualified regarding licensure and insurance and you can find them in a wide variety of categories.
License: Make sure your potential home contractors are licensed and insured as well.  Call your local state business licensing board to verify current licensure and ask about any complaints that have been issued to your potential home contractors.  Also be sure to request a copy of both the license  as part of your investigation.  Contractors are licensed as a Class A, Class B or Class C and then there are also trade licenses specifically for HVAC, Electrical and Plumbing.  Here are the classification's for you:
Class A: Work on a single contract up to $120,000 or multiple contracts up to $75,000
Class B: Work on a single contract up to $7,500 or multiple's up to $120,000
Class C: Work on single contact up to $1,000 or multiple's up t $7,500
References: Talk to some of your contractor's previous clients and references. There is no better way to evaluate potential contractors than by talking to their previous customers or checking out the finished work itself. If you get the chance to view some of the work that the company has done, don't miss it.  Ask the references specific questions regarding communication, project time-line, surprises, budget, etc.
Insurance: An absolute requirement for every contractor is a General Liability and Workers Compensation Insurance. If a certain contractor doesn't have this kind of insurance, you could be the one held liable for any accident that can happen under construction premises while work is going on. Get a copy of the contractor's insurance certificate from their provider before starting any project.
Complaints: Search for contractor reviews and complaints online. Run your very own background check on these contractors by searching for reviews and complaints from your potential contractions online. You can check out the Better Business Bureau site or other sites such as servicemagic or angie's list.
Contract: Create and sign a good contract. Sign a good contractor that will protect the interests of both parties. Specify the tasks that need to be done, the duration of the project, its price and the payment dates. Don't forget to be keen with the details. This is usually where 90 percent of the conflicts occur. The scope of work should include that they are responsible for any issues that may occur during the rehab. Residential rehab bids are often poorly documented with a lot of issues being overlooked, poorly defined or left out.
Permits: You should ask your contractors specifically about how they plan to handle necessary permits for the job.  If they absolutely refuse to pull permits, consider this a red-flag in your search.
Change orders: Watch out for the change orders. Rehab construction has this element of unknown and other pre-existing conditions. These are conditions that may alter the original construction plan and are left inherent during the bid. Make sure the 'change of order' process is clearly defined.
Deposit: All contractors will want to have some funds up-front.  Be sure that the construction draw process is clearly documented in the contract to avoid future misunderstandings.  Be careful of contractors who request more than 50% of the work up-front.
Schedule: Speed of construction is a very important consideration.  Be sure to clearly define the start date and expected completion date in the contract.  Your holding costs on your investment will skyrocket if the construction takes a long time to complete.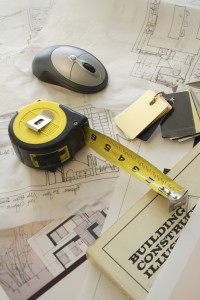 No matter how long the search becomes, in the end, what's important is that you get the best deal for your investment's worth.  The best deal consists of a combination of quality, speed and price. When searching for a great contractor you will want to balance the price, quality and speed of the project.  Be sure you find a contractor who will be on your team and have your best interest as his primary objective.  Keep in mind that you are providing the contractor with a large contract and entrusting them to do a great job, complete it on-time with minimal hassles.