Today's real estate market is the Perfect Storm for all investor's. There are numerous opportunities in all asset classes including single family homes, mobile homes on land, multi-family, commercial, etc.
Grab a FREE copy of my investor kit:
I love single family residential and that is the asset class I focus on the vast majority of the time. I find the property management side to be much less intensive when we rent single family homes. I don't get calls from tenants complaining about noisy neighbors, space invasion or have to worry about mowing the grass at single family houses that we rent.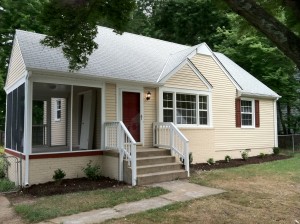 Right now is a great time to collect some income producing assets in the single family home class. In our Richmond, VA market you can buy 2 Bedroom houses for $35 – 40k and rent them for $750 per month or you can buy 3 – 4 bedroom homes for $60 – 80k and rent them for $950 – $1,100 per month. These are all nice homes in good working class neighborhoods that are easy to rent to families who will hopefully stay in the house for several years pay their rent on-time and take care of the house. These also provide excellent income streams at these prices.
If you buy the homes with equity financing, without using banks of course, you can joint venture with a private lender who will fund the entire transaction while you do the fix-up and property management for the next several years.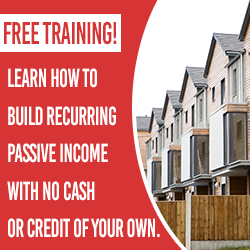 Here is an example of how the monthly payment works out using private money on equity financing transaction:
Total funding needed to buy, close and fix up house: $65,000
After repair value of house: $115,000
Monthly rent: $950 per month
Monthly taxes and insurance: $150
Net monthly rent: $800
Equity financing monthly payment: $400
Investor income stream: $400 (split with your private lender)
The real estate investor and the private lender investor each get $400 per month and then split the upside when the house is sold in the future. Let's use an example of selling the house in 5 years at today's current value of $115,000. In this case, the venture has the upside equity being split 50/50 so the net equity of $50,000 is split with $25,000 going to each party in the transaction.
What did each investor get in this transaction over the 5 years:
Private lender received monthly dividends of $400 per month for a total of $24,000 AND the $25,000 upside equity. His annualized return is: 15.07% and the 5 year dollar return is $49,000 on the $65,000 investment.
The real estate investor receives an income producing asset with NONE of his own funds in the deal along with a $400 monthly income stream and the $25,000 upside equity when sold. His return is infinite because he had no money in the transaction. His dollar return is also $49,000 since it is 50/50 equity financing.

Transactions like this one are easy to put together in today's market. What are you doing to make it happen for yourself?

There is a lot of Chaos in our financial markets these days and a lot of people are hurting because of it. 401k accounts, IRAs and stocks are dropping like a rock. Unemployment is still high and the fiscal cliff is looming!

The hallmark of a Entrepreneur is to be able to figure out how to capitalize in any market and any economy. The good news is that as a real estate entrepreneur you can make it happen today because real estate is on-sale and readily available at big discounts.
What are you doing to make it happen?
What is your biggest real estate challenge?
Leave me a question or comment…