I have some great news for you today!  Through Amazon Kindle Direct Publishing I have set up a promotion of my latest book, Cash Flow Now, where I can give away copies for FREE.  This promotion is for TODAY only so you need to act now in order to get it.  The normal price of the Kindle edition is $4.99 so get the FREE copy now using this link:
Cash flow Now on Amazon by Jim Ingersoll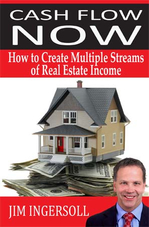 In this book I write about multiple streams of real estate income in an easy to read format and cover a lot of strategies including wholesaling, flipping houses retail, private lending and investing for retirement using self directed IRA's.
Here are some of the endorsements I received:
"Cash Flow Now offers a simple but powerful approach to generating real estate cash flow in today's market. Author Jim Ingersoll does a great job showing how anyone can generate monthly cash flow from today's real estate opportunities. I'll be strongly recommending Cash Flow Now to our 70,000 Newsletter subscribers."
J.P. Vaughan, J.D.
Publisher, Creative Real Estate Online
Financial security, before anything else, is of paramount importance. Cash flow, when secured by hard assets, is the basis for creating multiple streams of diversified income that leads to security, options and finally, financial freedom.
"The Dallas Mavericks owner is famous for his business advice and said, "sales cure all." Another way to could be said is "Cash Flow Cures All." If you don't have cash flow, you have stress. This book is a must read for anyone looking to plan for the future and enjoy life more."
Ron White – 2 Time USA Memory Champion –
"Cash Flow is the life blood of any business. Simply put, generating a healthy cash flow from you real estate investments not only allows you to quit your job, it also allows you the ability to live an enviable lifestyle. Jim Ingersoll does a wonderful job of showing you how you can do this for yourself and your family. A must read for every real estate investor or anybody contemplating getting into this fascinating and very profitable field." – Scott Britton
Scott Britton, Realtor
"Creative Real Estate Solutions"
If you already have a paperback copy, you may want to get a copy for your Kindle today using this link:
Cash flow Now on Amazon by Jim Ingersoll
If you have read my book, please leave me a review on Amazon or Barnes and Noble.  Both sites have a super easy review capability for users.  If you leave me a review, please "share" it with your social media contacts as well.
That is it, super easy and a FREE GIFT from Jim!
Enjoy and spread the news by sharing with your social media contacts in facebook, linked in, twitter and Pinterest!
Cash flow Now on Amazon by Jim Ingersoll