Hi Everyone
If you have visited our main site at http://www.investingnownetwork.com over the past couple days you realize we exceeded our bandwidth.
Like me, you may wonder how that happened.  Apparently we had a large spike in visitors to our site that drover us over our server limit.  This was a good problem to have as a lot of people came to the site, but it was a bit of a challenge for me to switch hosting to a larger server capacity and get it up and running again.  The good news is it all set now.  I want to thank you for your patience while this change over occurred over the past couple days.
A lot of the spike in traffic came from Pinterest.  I have been experimenting with Pinterest lately to see how it can be used for real estate investors.  I will post a blog on it sometime in the near future.  If you are in Pinterest, then please connect with me.  I have made this site Pinterest friendly.  As an easy way to connect in Pinterest, I ask that you pin this picture below as it tells the story of today's real estate market.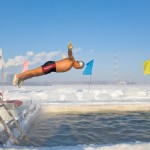 So many people are starting to dive back into real estate this year.  Why?  The market may appear "COLD" to the media, but those of us that active on the street investors know that the water is VERY WARM right now.  That is why people like Warren Buffett and Donald Trump are advising people to buy houses and investment real estate.  It is why foreign investors are returning to the market as well.  If you are on the diving board and afraid to jump in, then you may want to invest in yourself a bit more and you should do that right now.
During our recent Flipping Houses Mastermind we discussed FEAR.  Some are afraid of not being able to get bank mortgages, others are afraid of buying the wrong house, others are afraid of Bad Contractors…  My point is that everyone is afraid of something.  The nice thing about a mastermind group is the synergy created and success builds upon success as fears are Relieved!  The market for selling houses is the strongest that I have seen in recent years.  If you are on the diving board but afraid to jump because the water APPEARS frigid and cold, you may want to consider joining our mastermind groups.  Follow this link and complete the short contact form at the bottom of the page.
http://www.investingnownetwork.com/coach
I will then follow up directly with you, send you an application, etc.  Below is a photo from our last meeting.  Who is in the group?  A combination of Realtors, CPAs, Contractors, IT Professionals….  What is holding you back?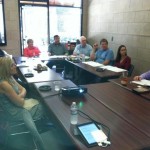 My new book is on-schedule to publish right around May 1st so stay tuned on that one!
I will be speaking in April and May and look forward to connecting with you soon!
Happy House Hunting!
Jim