I have scheduled our monthly lunch webinar this month with Rachel Hernandez, aka Mobile Home Gurl.  Rachel is an accomplished investor focusing on mobile home deals and she recently published her first book, "Adventures in mobile homes" which is available on Amazon.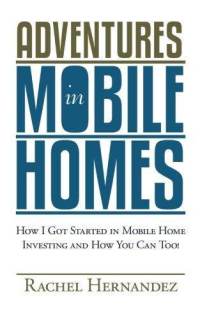 Rachel wasn't always the "Mobile Home Gurl". She actually got her start in single family homes and built up a sizable portfolio, but investing she quickly realized she wanted to act as the lender and not as a landlord and she shifted gears into doing a ton of mobile home deals.
Join us for this lunch-time webinar and hear the story, ask questions and interact with both of us as we discuss the adventures of mobile home investing.
Title: Investing in Mobile Homes
Time: Wednesday, October 24th at 12:00pm Eastern
To attend, visit:
http://InstantTeleseminar.com/?eventID=34575060
Phone Number: (206) 402-0100
Pin Code: 331285#
See you on Wednesday the 24th!
Jim