By Jim Ingersoll
The truth is that real estate is still on-sale and great deals are available in every market from Boston to Seattle.  Why then are so many people still afraid of real estate?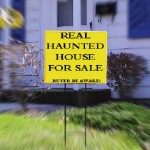 I personally do not believe in ghosts, but I do know that some of the best deals of our generation are available right now and that continues to SCARE some investors.  Here are 3 of the reasons investors are still afraid of real estate.
1.  Money –  I find that investors are not literally afraid of money and they are not afraid of their ability to make money in real estate.  What I find is that they do not have enough money in their checking accounts to allow them to go buy houses.  In the past, investors could easily get a mortgage at the local bank and buy houses with no money down.  The credit crunch drastically changed that scenario and took out tons of investors who can no longer buy houses with easy bank mortgages.  What is the answer then?
Fire your bank and succeed massively!  That sounds great, but how can you do it?  Learn to use private money and joint venture on real estate deals.  Need more information on this topic?  Check out these articles to get your wheels turning and prepare you to buy without the banks.
Invest in real estate with self directed IRA
Joint venture to buy real estate without banks
Build a portfolio of rental properties without money
2.  Brokers – Many investors still are in the mindset that all deals come from banks and brokers.  Without a realtor most investors think they can not find a motivated seller.  The truth is that there are still tons of high equity homes owned across America.  How can you find the ones that that are owned free and clear and have sellers motivated to move them?  That is the key question to your effective marketing campaign.  There are so many ways to reach out and find these sellers.  Everything from bandit signs to post card campaigns, calling burned out landlords and sending out yellow letters work great.  The key to marketing is to focus on who you are reaching out to connect with and be both consistent and persistent in your approach.  Many of the best deals available to real estate investors are never listed with a Realtor and never make it to the MLS.  What are your experiences with marketing?  Greatest challenges?  Leave me a comment to let me know.
3.  Chicken Little Syndrome
Many investors do take the opportunity to invest in themselves and learn to invest, but what holds them back is the FEAR associated with real estate.  Here is some of things that lead them into chicken little syndrome:
Numbers –  tie them up in never-ending analysis.  Folks with Science and Math backgrounds, like myself, can get derailed in over-analysis of their deals.
What is in the walls?  Yes, some get nervous about the condition of the house and everything frightens them into not moving forward.  These typically include mold, lead based paint, bad roofs, knob and tube wiring, radon gas, infestations and so on….
Tenants –  The thought of turning real estate assets over to people you don't hardly know and expecting them to pay on-time each month and take good care of the property can be scary to many people.  Everyone knows the Landlord horror stories and they SCARE investors into not moving forward.
Don't allow yourself to be scared out of your future wealth and cash flow.  Make it a priority to address every fear you have.
The truth is today's real estate market is the perfect storm for investors with tons of great deals on distressed property and high equity property from coast to coast!
Do not look back 5 years from now and wish you had bought a bunch of houses!
Leave me some comments on the fears of real estate and share this article with your facebook, google +, twitter and linked in contacts