Hi Everyone
I hope you are having an awesome summer!
I can not believe 2013 is more then half over.  I hope you are crushing the goals you set for yourself this year!
I have 2 FREE items for you today and I hope you take action to grab them both right now.
1.  Cash Flow Now – I have a special Kindle promotion on Amazon right now where you can grab my book for FREE!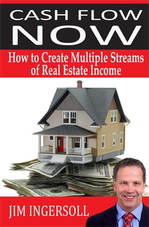 Follow this link to grab your FREE copy right now ====>   Cash Flow Now by Jim Ingersoll
2.  FREE Real Estate training on how to build a portfolio of rental properties and RESIDUAL income + WEALTH.  Join me for this FREE webinar
Follow this link to grab this FREE training =====> Real Estate Training Webinar
That's it!
Take advantage of this opportunity today to invest in yourself and learn to earn!
Buy some houses, exceed your goals and all my BEST to you!
Jim